2012.03.25.
Public lecture session "Story of Hayabusa" held with Professor Kawaguchi and Associate Professor Abe as guest speakers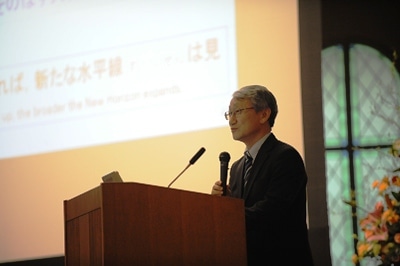 The Physical Society of Japan and the steering committee of the 67th annual meeting of the Physical Society of Japan held a public lecture session titled "Story of Hayabusa" at Junior and High School Chapel on the Nishinomiya Uegahara Campus of Kwansei Gakuin University.
This lecture session was held as part of the Physical Society of Japan's 67th annual meeting. The guest speakers were JAXA professor Junichiro Kawaguchi and JAXA associate professor Masanao Abe, who both played leading roles in the Hayabusa project.
The Hayabusa spacecraft was launched to probe the asteroid Itokawa. After it successfully landed on Itokawa, it experienced a series of technical problems that threatened its return. The spacecraft, however, survived the problems and returned to the Earth after its seven-year voyage totaling approximately 6 billion kilometers. Its return to the Earth is still fresh in our memory.
Associate Professor Abe explained about the items that Hayabusa brought back to Earth through a PowerPoint presentation, while Professor Kawaguchi talked in a soft-spoken manner about Hayabusa's difficult journey, referring to the movies Hayabusa: The Long Voyage Home (Hayabusa: Harukanaru Kikan) and Welcome Home, Hayabusa (Okaeri Hayabusa). Professor Kawaguchi concluded his speech by saying, "Japan must transform itself from a country of production into a country of creation. I will also strive to help people develop their own individuality and sensitivity. Unless we build a high tower, we cannot see a new horizon."
About 600 people attended the session, including many elementary and junior high school students, listening eagerly. After the lecture session, there was a continuous series of questions and answers.