2018.06.13.
GSⅢ Special Project "Meal for Refugees 2018" in Kwansei Gakuin Senior High School
"M4R 2018" from June 18th to 22nd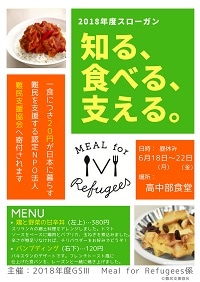 KG Senior High School will hold 'Meal for Refugees (M4R)' at the cafeteria of Senior High School Building, from June 18th (Mon.) to 22nd (Fri.), in accordance with 'World Refugee Day' on June 20.
 The aim of M4R is to deepen many students' interests in and understanding of refugees who have fled to Japan through a familiar topic: "food". In our school, the GLP 3rd-year students are in charge of planning and managing the project with the cooperation of Japan Association for Refugees (JAR), a certified non-profit organization (NPO).
 During this period, the cafeteria will serve dishes from two different countries: "Chicken and Vegetable Stew in Chili Sauce" from Sri Lanka (on Rice Bowl, added a touch of Japanese style) and "Bread Pudding with Raisins" from Pakistan. A donation of 20 yen from each meal served will be used to support refugee relief activities in Japan.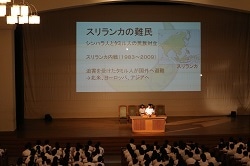 Prior to the implementation of the event, the students had a presentation during the School Assembly on June 5th where they asked other students' to participate in and support the project.