Emphasis and Goals
Sound Education Embracing Freedom and Autonomy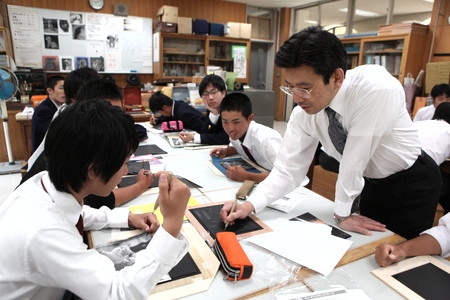 In contrast to the pressure-oriented traditional Japanese education system that focuses only on high academic achievement, KGHS emphasizes creativity and individuality. As a result of this emphasis, the students take the responsibility to discipline themselves, thus alleviating the need for rigid authoritarian rules.
International Perspective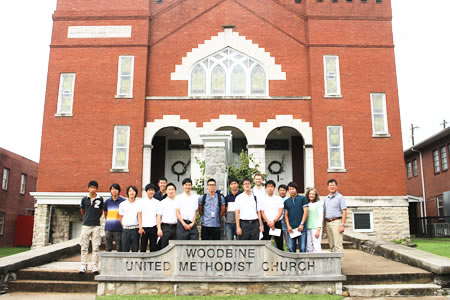 At KGHS we emphasize international education. Through several exchange programs with schools in various countries, we strive to educate our students as internationally-minded citizens who have a comprehensive and cooperative perspective toward other people in the world. There are also, at any given time, one or two foreign exchange students studying at our high school.
Curriculum
English Language Emphasis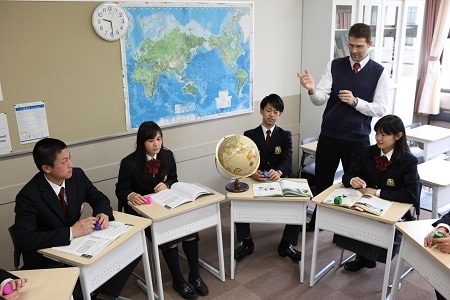 All students are required to take English language courses taught by both native English speaking teachers and Japanese teachers of English. Rather than teach English through the inefficient, traditional grammar-translation method that fails to teach true communicative skills, we at KG strive towards a communicative based language teaching methodology, giving our students a balance of all four macro language skills: reading, writing, listening, and speaking.
Research Skills Emphasis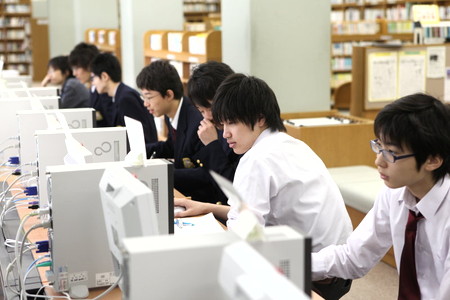 Our "Reading & Research" course trains students in academic writing and research skills and teaches them to make efficient use of the library and its resources. All 12th grade students are required to research and write a thesis prior to graduation.
Past achievements
"Why Japanese people attracted by something fragile"  
*Award for Excellence in the Library Study Competition(2012)
*Yomiuri Shinbun(Newspaper) Award(2012)

"Why Baseball is so popular in Japan"  
*Award for Excellence in the Library Study Competition(2013)

"Why the Ant thrives all over the world"  
*Prize for Honor in the Library Study Competition(2013)

"Why the people called nurse ;The angel wearing white coat"
*Award for Excellence in the Library Study Competition(2014)

"Why people strive for a dream with lottery"
*Prize for Encouragement in the Library Study Competition(2014)

"The Connection between Language and Human"
*Prize for Honor in the Library Study Competition(2014)
Elective Course Emphasis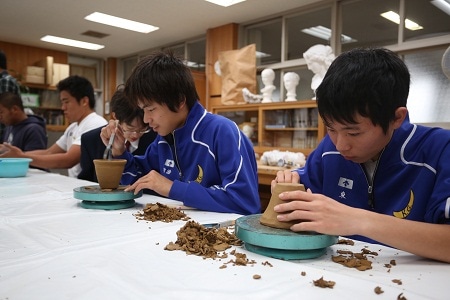 KGHS offers all 12th grade students a wide variety of elective subjects in a wide variety of fields. To provide a more creative atmosphere for maximum learning enhancement, we invite many teachers from outside the school, such as university professors, researchers, and professional specialists in various fields to teach these.
SUBJECTS IN THE KGHS CURRICULUM
REQUIRED COURSES
Japanese
Mathematics
Bible Studies
Japanese History
Geography
Home Economics
Biology
World History
Art
Chemistry
Social Studies
Information Technology
Physics
English
Politics and economics
Geology
Reading & Research
Music
Physical & Education
ELECTIVE COURSES(subject to change)
English(Academic Speaking & Writing)
Japanese Calligraphy
Introductory Education
English(Exam Preparation)
Golf
Introductory Sociology
English(Current Topics)
Weight Training
Introductory Business Administration
Korean
Tennis
Introductory Policy Studies
French
Yoga
Introductory Human Welfare Studies
German
Judo
Introductory International Studies
Chinese
Computing
Introductory Science and Technology
Oil Painting
Cooking
Introductory Economics
Pottery
Literature Appreciation
Introductory Law
Music
East Asian History
Ethics
Kwansei Gakuin, a comprehensive and integrated educational institution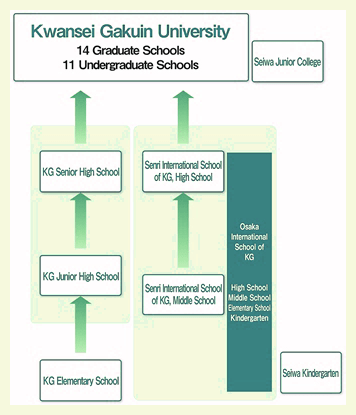 Kwansei Gakuin is one of the most prestigious private schools in Japan which dates back to in 1889, when it was founded by the American missionary Reverend Walter Russell Lambuth, M.D. in Kobe.

Kwansei Gakuin is now a comprehensive and integrated educational institute with a university, junior college, senior high school, junior high school , elementary school and kindergarten. It has 7 campuses: Nishinomiya Uegahara, Nishinomiya Seiwa, Kobe Sanda, Osaka Umeda, Tokyo Marunouchi, and Takarazuka, and Senri Kokusai.

Kwansei Gakuin University(KGU) is an independent institution for higher education, offering Bachelor's, Master's, and Doctoral degrees in over 35 different disciplines to a student body of about 23,000, including approximately 400 foreign students. The University maintains academic standards that rank among the highest of all Japanese universities and colleges.
University Admission
Freedom and difficulty not shared by students receiving exam-centered education
Kwansei Gakuin Senior High School provides education under a recommendation-based admission system through which students can advance to Kwansei Gakuin University. Students who meet the academic standards and whose character and attitude are deemed worthy of recommendation will be accepted into schools of KG University after passing an oral interview.

Kwansei Gakuin University is one of the most prestigious private universities in the Kansai region, with nine schools on the Nishinomiya Uegahara Campus the School of Theology, the School of Humanities, the School of Sociology, the School of Law and Politics, the School of Economics, the School of Business Administration, the School of Human Welfare Studies, the School of Education, and the School of International Studies, and two schools on Kobe Sanda Campus the School of Policy Studies and the School of Science and Technology.

To be accepted into Kwansei Gakuin University under the recommendation-based admission system, students are expected to have seriously engaged in their studies and other school activities for three years. They are also expected to understand the school's philosophy and have a well-rounded character. The scheme has great significance in allowing students to improve themselves in a well-balanced manner and grow into individuals who can contribute to others and to societies.