【2017.08.03-09】Overseas Fieldwork (Cambodia)
日時:

2017年08月03日(木) 00時00分 ~ 2017年08月09日(水) 00時00分

場所:

Siem Reap (Cambodia)

対象:

12 second-year GLP students
 【Objective】: ・To learn about Cambodian history, culture, and the field of international cooperation such as Non-Governmental Organizations (NGOs) and Japan Overseas Cooperation Volunteers (JOCV)
・Students can make use of valuable experiences and knowledge through these cooperative activities when carrying out their own projects.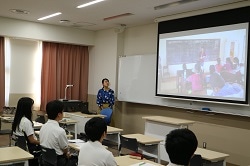 KG Senior High School visited Siem Reap in Cambodi
From August 3rd to 9th, KG Senior High School visited Siem Reap in Cambodia for overseas fieldwork.
12 second-year GLP students joined the program.
The students did research about Cambodian history, culture, and the geographical situation in the preparation classes.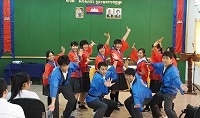 They also practiced the performance of 'Sōran-Bushi*' as an introduction of Japanese culture, and prepared for their global issues presentation for the cultural exchange day at Angkor High School.

  *'Sōran-Bushi' is one of the Japanese traditional songs and dance that is said to have been first sung
    by the fishermen in Hokkaidō.
The most important thing when participating in the fieldwork is to learn something positively and to speak out on any subject. Most students will surely be able to have a valuable time as long as they have an open and inquisitive mind.  Students' willingness to learn improved and their active attitudes encouraged each other.  It is necessary for students to continue this attitude when tackling their tasks in the Global Study class.
*Please refer to the PDF file "0803-0809, 2017 Activities Reports (Fieldwork in Cambodia)" for details of the fieldwork.