【2017.07.14】GLP Session Day - 'U33' Change the World presented by Global Shapers Seminar
日時:

2017年07月14日(金) 00時00分

対象:

GLP 1st & 2nd year students (total 69 students)
  【Objective】: To enhance the interactions with staff members of NPOs and other international organizations and to ensure wider           participation which will lead students to work on further developing their individual research projects. 
GLP Session held at KGHS ~'U33'Change the World ~
KG Senior High School held a GLP session for 1st and 2nd year students and invited 4 lecturers from the Global Shapers Community Osaka Hub. The Global Shapers Community is a network of Hubs developed and led by young people with diverse backgrounds between the ages of 20 and 33 which was founded in 2011 as an initiative of the World Economic Forum.

Each member of the community is called a 'Shaper' and the interaction with the Shapers can be helpful to expand high school students' lifestyles or career decisions.
Overview of the Session

1. Joint Session
Self-introduction of the lecturers, their current occupations, and an episode in their high-school day
2. Section Meeting
The students were divided into 4 groups and participated in the section meetings which had been preregistered based on their interests. 4 Shapers gave a lecture on their own jobs and experiences during the session with the students.
3. Combined Section Meeting
All of the students and Shapers came back together before representative students from each session reported on the details of their section meetings. At the end of the session, the Shapers summarized the information and gave a message to the students.
We invited 4 Shapers who are active worldwide in many professions - a hair stylist, a dance instructor, a NPO chief director, and a producer of renewable energy businesses.
The session gave the students a precious opportunity to share their thoughts with specialists from various fields, even though they did not have much in common.
The lecturers encouraged the students to be never afraid of being different from others and to always seek their own happiness.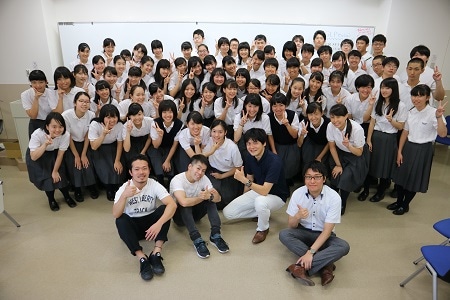 【Students' Impressions】

● I think we should think positively and try anything at least once.
● I want to select the best way to gain a wide variety of experiences without holding fast to certain stereotypes.
● I recognized that it is important for all of us to do our best in everything without fearing failure. I think the person who achieves his own dream is so full of life.