【2017.06.19 - 23】GSⅢ Special Project "Meal for Refugees 2017" Activity Report
日時:

2017年06月19日(月) 00時00分

対象:

3rd-year GLP students / all GGP students
【Objective】:  To raise people's awareness regarding refugees and deepen their understanding of International Cooperation
GLP Seminar was held at KGHS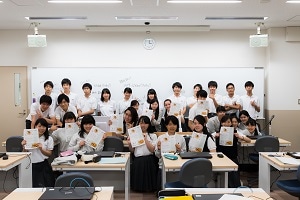 KG Senior High School held the 'Meal for Refugees (M4R)' program at the cafeteria in the Senior High School Building from June 19th (Mon.) to 23rd (Fri.).
The same project was also held last year, and it was the first attempt of such action among all high schools in Japan.
This year, 3rd-year GLP students worked together on the M4R activities under the slogan of "International Cooperation de Lunch Time".
These are their activity reports on the project as follows.
< Students' Impressions>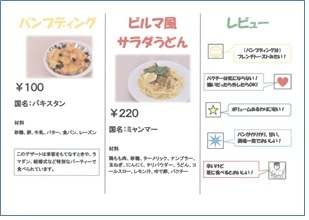 "First, we GLP members made a slogan that was welcoming for high school students in the GSⅢ class. Then, we decided a menu after talking with the cafeteria staff. We took into consideration of the taste, quantity, appearances of dishes, menu prices, and so on.
We also contacted the Japan Association for Refugees and did our best to advertise the project in order to make it known to our schoolmates. During this period of the campaign, the project was covered by the media, like TV and newspapers.
All the students concerned worked together to promote publicity for the M4R project, such as getting interviewed for TV, visiting the cafeteria periodically, and reporting on the progress of the project."

"After learning about the global refugee issues in class, I thought it was important to have many people know about the situation. However, until then, I had not taken specific action for it. Based on a questionnaire of the students' attitudes toward the refugee issues, we could tell many of them have hardly had the chance to get clear information about refugees. I also do not have enough knowledge of refugees, but I could take part in public relation activities to tell many people about the refugee issues. As part of the PR, we handed our schoolmates the flyers of the M4R project at the cafeteria, and they looked through that. We should create more opportunities to think of refugees. We GLP students, in particular, should build up our knowledge and then inform many other students of the concrete initiatives. Through the project, I realized the importance of taking action as a leader."